View cart
"BOSS A1 Food Processor" has been added to your cart.
BOSS Platinum Portable Blender
B124
₹1,855
Colour(s) – White, Black, Grey
Speed – Two Speed Setting
Power – 230 V.AC | 50 Hz | 180W
Motor Warranty – 2 years
Attachment(s) – 3 Stainless Steel Blades; Wall-mounting Stand
BOSS PLATINUM PORTABLE BLENDER
Whether it is whisking, churning or blending, BOSS Platinum Portable Blender makes it super easy. This Elegant appliance boasts a longer shaft for additional blending. What's more, the blender tops in terms of performance, overall quality and convenience. Last but not the least the wall mounting stand and easy to use push button will make you fall in love with this product.
Product Features

Powerful Motor
Boss Platinum Portable Blender operates on 180W, easily blending fruits and vegetables for smoothies, shakes and purees. It is evenly balanced for power and long-lasting durability.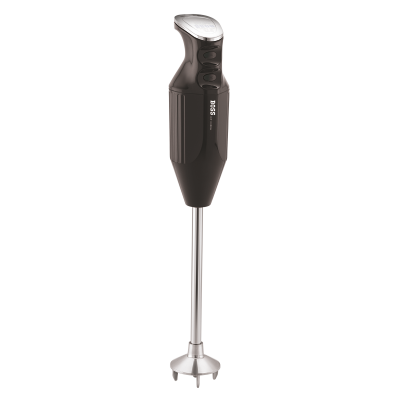 Premium Lacquer Coating
The Sleek & Contemporary Style Blender comes with Premium Lacquer Coating which adds a touch of class to your kitchen. Ergonomic Handle feels comfortable in your hand and makes operation quick and easy.
2 Speed Push Button
The 2 Variable Speed Push Button is a very handy feature that allows you to customize the speed according to your needs and preference.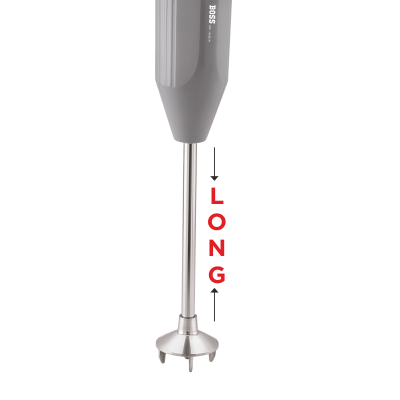 Extra Long Shaft
Long shaft helps in additional blending, making it perfect for reaching into large bowls, pots, and jars.
Wall-Mounting Stand
Wall-mounting Stand makes it easy to use, especially if you are handling it for the first time. It is lightweight and compact and takes less space on your kitchen shelf.
Multifunctional & Easy to Clean
Blenders can be versatile but at the same time can be tedious to clean. With its simple design, this BOSS Portable Blender needs less maintenance, as it is very easy to clean.