BOSS A1 Food Processor
B704
₹12,775
Colour(s) – Black & Silver
Speed – Three Speed Setting with Incher
Power – 230 V.AC | 50 Hz | 1000W
Motor Warranty – 5 years
Attachment(s) – 12 Attachments

-Finger Chip Disc
-Shredding Disc
-7 Steps Slicing Disc
-Liquidizer Jar
-Chutney Grinder
-Dry/wet Grinder
-Chopping Blade
-Kneader Blade
-Citrus Juicer
-Centrifugal Juicer
-Processor Bowl
-Centrifugal Juicer Lid With Pusher
BOSS A1 FOOD PROCESSOR - MASTER OF MULTI-TASKING
A complete range of kitchen accessories that allows you to finish your chores faster. The BOSS A1 Food Processor can perform functions like chopping, mincing, kneading, grinding and juicing effortlessly. Equipped with a powerful 1000W Motor, this Mixer comes with 12 Attachments. LED Power Indicator and Aesthetic design, add a touch of style to your kitchen, while making cooking convenient. Experience convenient cooking like never before with the BOSS Food A1 Food Processor that not just makes cooking easy but churns out healthy and tasty dishes in minutes.
Product Features
3 Variable Speed with Incher
The appliance comes with a 3-Speed Setting that makes blending and grinding easy allowing you gradually to increase the speed without overloading the system. The Mixer also bears an incher for momentary operation in case you want to do the grinding in your own rhythm.
Overload Protector
Power overloads may damage your electrical appliances. BOSS A1 Food Processor is protected against the sudden overloads. In case such a situation occurs, then your food Processor will automatically turn off. To restart the unit, wait for 2-3 minutes to allow the motor to cool down and remove the cause of overload and press the button located at the bottom of the appliance and you are good to go.
Strong Stainless Steel & Polycarbonate Jars
Accompanied by a set of three jars and a processing bowl, the appliance is suitable for varied use. The Grinding Jar and Chutney Jar are made of Stainless Steel while the Liquidizing Jar and Processing Bowl are made of Unbreakable Polycarbonate material.
Interlock Mechanism
Consists of a Safety Interlock Mechanism that is designed to prevent undesired states. BOSS makes the processing of food safe & secure.
Sturdy Base
Sturdy Base Stands Stable, Even During Kneading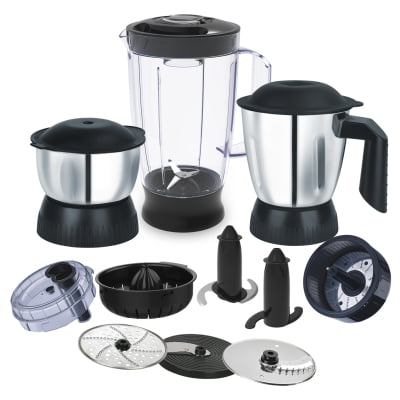 Multi-Functional Accessories
The BOSS A1 Food Processor can perform multiple functions for you. Chop, slice, shred and grate all your vegetables and other food items with ease. Featured with multiple accessories, the processor can is a perfect kitchen companion. You can whip creams for cakes and pastries, and prepare delicious batters, purees and chutneys.
Durability
Sporting an elegant design and sturdy body the BOSS Food Processor ensures high durability & long lasting usage.
A DESIGN BUILT FOR SAFETY
Keeping your safety in mind,the product will not start until the lid is completely locked. The build is ergonomic and comfortable to use.
Compact Design Takes Minimum Space for Storage
A very elegant compact design takes less space on the shelf and is also easy to store and maintain.