BOSS Sharp Griller Toaster
B514
₹2,625
Colour(s) – Black & Silver
Cooking Plate – Aluminum Casting with Non-Stick Coated Cooking Plates
Power – 230 V.AC | 50 Hz | 750W
Warranty – 2 years
Out of stock
BOSS SHARP GRILLER TOASTER
This ingenious sandwich from BOSS is loaded with features, such as food-grade non-stick coating, deeper droves in plates, hinged lock and a cool touch handle, and many more. The sandwich maker comes with interchangeable plates as well. With the interchangeable plates this multi-functional sandwich maker allows you to make grilled sandwiches in the comfort of your home. With this sandwich maker from BOSS, you can make tastiest and crunchiest sandwiches in almost no time.
Product Features
Non-stick Coated Cooking Plate
The Non-Stick Coating allows to remove the need for excess oil and butter during cooking which makes the cooking healthier. You can make yummy sandwiches with very less or no oil/butter ensuring you enjoy the ingredients and not the grease.
Efficient Power Consumption
The BOSS Sharp Griller Toaster consumes 750 Watts thus it requires very less power to operate.
Power Indicator
The BOSS Sharp Griller Toaster comes with a power on/off indicator so that you can keep an eye on your sandwich while managing your other work.Red indicator - power on; green indicator-ready to toast.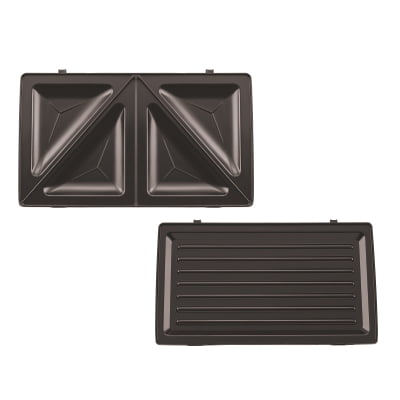 Toast & Grill Function
This Sandwich Maker comes with 2 plates, for toast and grill, and these plates are easily removable. Thus, you can choose a specific plate depending on your need.
Buckle Clip
The appliance is designed with a Buckle Clip on the handle that is used for locking the griller toaster to retain heat and also for a neatly pressed sandwich.
Cool Touch Body
You can safely touch the outer body at any time, without any risk or danger involved.